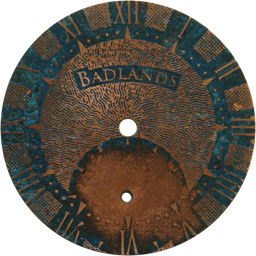 Guarantee
Returns
It can be difficult to commit to buying a watch without holding it in person. Both aesthetically and in terms of size compatiblitiy with your frame and personal style, it is almost impossible to be absolutely confident about a purchase. Therefore, we offer a seven-day test period. You may try your new watch out for seven days and then return it if that is your preference. We will refund the purchase price less ten percent to accomodate shipping and the unavailable inventory during the test period. Needless to say, any visible damage during the test period will void the return offer, so be extra careful with it.
Functionality Warranty
Damage
Badlands watches are protected for one year against manufacturer defects. Warranty protection does not cover unreasonable damage such as heavy impact, extreme temperatures, or submersion (see Water Damage below). If your watch stops working or is not working properly please contact us and ship the watch back, preferably in its original packaging.
Precision
Our movements are not guaranteed to be more precise than one minute slow or fast per day. Most of our movements are far more precise than that (some have pleasantly turned out to be precise to a few seconds per day), but it is difficult for us to guarantee such precision due to the rough ride during shipping and possible environmental differences between your location and their origin (temperature, humidity, air pressure, etc.). Some further adjustment (called regulation) might improve performance, but short of glaring imprecision would be better performed by a jeweler in the customer's own location for the reasons just listed. Contact us if you would like to discuss options.
Cosmetic Damage
Dial
Badlands dials should last a long time with relatively modest visible change. Both the copper and any patina are protected by a transparent enamel, lacquer, or similar coat. However, the shiniest copper areas may slowly darken, as it is nearly impossible to prevent all future oxidation. We are genuinely uncertain whether prolonged direct sun exposure will cause any color-shift. We offer a one-year protection against any dramatic and undesirable discoloration of the dial. Changes in appearance due to improper exposure (water, heat, etc.) will not be covered.
Stainless Steel Case
Watches with unmodified stainless steel cases should be extremely resilient to scratches, dents, etc. We would like to offer protection for such cases, but to be honest, any incident capable of damaging the stainless steel would almost certainly fall into the category of unreasonable mistreatment or abuse. However, feel free to contact us if you believe the case has been unreasonably damaged.
Copper-plated or patinated Case
Please be aware that our copper-plated cases and our copper-plated-with-patina cases are subject to wear and tear. They are similar to the popular PVD coatings in terms of susceptibility to light scratches and even small flaking (the cases are protected by a transparent enamel, laquer, or related material and so should be reasonably protected). While such markings would constitute obvious damage on most watches, we believe the Badlands style can take such natural aging in stride, accommodating general wear and tear as additional character in a fashion entirely compatible with the original product. However, if in the first year you feel that the case has been unreasonably prone to scratching, flaking, or related damage, please contact us and we will make certain you are satisfied with your watch.
Strap
To increase the lifetime of your strap, it helps to know the "proper" way to use it. Yes, there is a right way and a wrong way. The distinction is in whether you unreasonably fold or wrench the strap backward over the buckle during unfastening. Admittedly, the easiest way to disengage the strap is to fold the strap backwards practically in half in order to force the tongue out from underneath. However, this practice rapidly weakens the strap, harms its appearance, and decreases its lifetime. Instead, fold the strap back as little as possble, barely more than straightening it out in fact, and then lift or pull the strap away from your wrist. Pulling upwards in this fashion should then permit you to remove the tongue from the hole without the need to fold the strap backwards. If you cannot get this to work, you are probably wearing the watch too tightly in the first place. If, in the first year, the strap fails completely, we will replace it.
Water Damage
The cases we currently use are officially water resistant to three atmospheres (100 feet or 30 meters). However, in the watch industry this figure doesn't actually promise what you might expect. 30-meter cases are merely "resistant" while true water-"proofing" is generally associated with cases labeled for greater depths. In short, we cannot guarantee any submersible resistence since even the smallest defect in the seal would immediately allow water in once submersed. They should, however, protect against reasonable daily exposure. If water enters the case please contact us, but also perform the following steps to maximize the chance of salvaging some or all of the internal parts:
Remove the watch from further water exposure immediately.
Don't wind the watch up anymore; let it run down completely.
If you can obtain a sufficiently small screw-driver, open the back of the watch as soon as possible, but only once you are able to prepare it as described in the next step. You don't need to wait for it to run down before opening it—the sooner you open it, the better. While merely opening the watch certainly doesn't void the warranty, any damage from attempting to open it (e.g., if the screw-driver slips and scratches the case), or after opening it, may affect the warranty. If you are not comfortable opening the case yourself, take it to a jeweler or watch shop.
Leave the watch, front-side down, with the back completely removed for several days. Don't just leave the watch out since dust will settle in it and it will be at risk of being knocked around. Instead, put it in a box with some dry white rice on the bottom of the box (don't let it get inside the watch of course). The rice dehumidifies the air in the box, which then encourages evaporation of the moisture within the watch.
Once a day, turn the watch over (support the movement in the case with your hand when you turn it over so it doesn't fall out) and check if the moisture is completely evacuated.
Don't close, use, or otherwise wear the watch until it is completely dry.